I have been playing through Quake 4 again for whatever reason.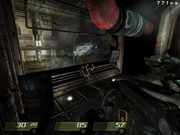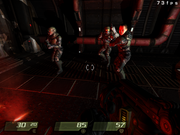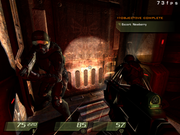 The only annoying thing to come up with this play-though so far was the fact I was killed several times before I was finally able to damage the Makron enough for him to decide to capture me instead! I know there is this "immersion" lobby that screams at someone suggesting this, but would that not be better as a cut-scene? Having to fire a few pot shots before it decides to grab me with a tractor beam it had all this time and could have used to prevent itself getting at all damaged in the first place breaks the suspension of disbelief more than any damn cut-scene!
Minor criticism though, still is a good game. Made up for it with the Stroggification scene, which definitely was a good thing to have kept in game rather than a cutscene. It still does however show up the folly's of the "first person ghost" effect when you see your body for a short while only to have it when you look down upon yourself later on you have no legs!
Sorry for the rant, but I had to get that out of my system.